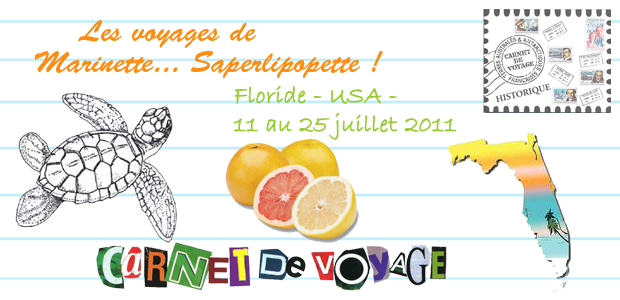 Mon dernier récit de Floride portait sur la route des Keys. Et c'est donc tout naturellement après cette (longue) route que nous arrivons à Key West. Le point le plus au Sud des Etats-Unis.
Vous le savez certainement mais Key West est donc la toute dernière île de cette succession que forment les Keys. La dernière accessible en voiture, et qui est donc aussi le point le plus proche de Cuba. On y sent d'ailleurs très nettement les influences.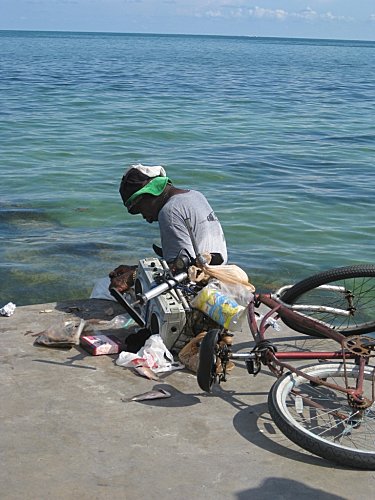 A Key West, il fait donc bon garer la voiture puis se promener à pieds. Chose assez rare que de pouvoir faire une vraie promenade – longue – à pieds dans une ville des Etats-Unis (sans être synonyme de "se perdre au milieu des buildings") qu'il est important de le noter.
De notre côté, nous nous sommes donc arrêtés près de la plage. Première étape importante après la longue route que nous venions de faire ! (Le tout accompagnés d'une part de pizza froide qu'il nous restait de la veille… la fête !).
Par contre, si Key West est réputé pour ses excursions en bateau et ses fonds marins, la plage n'est pas pour autant son meilleur atout. Du moins dans les parties publiques.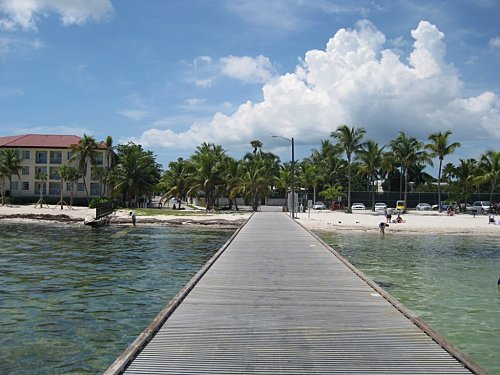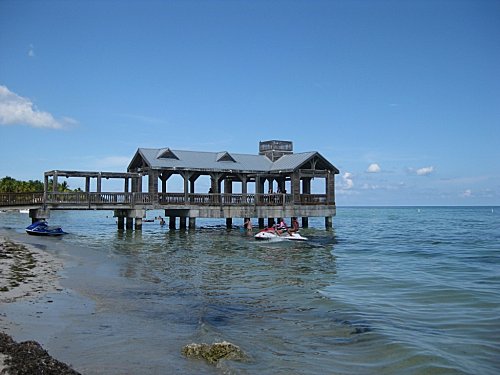 Par contre, on peut effectivement confirmer que les fonds marins doivent être intéressants puisque même au bord du rivage, c'est totalement entourés de mini poissons que nous devons nager !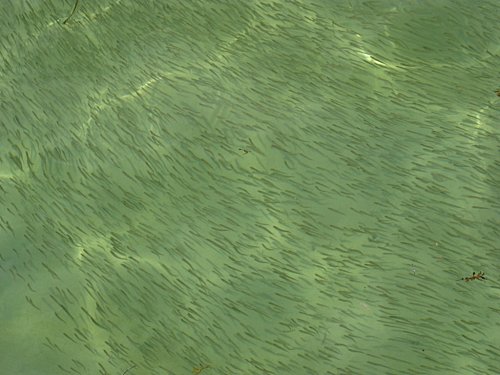 Après cette pause bien méritée, nous avons remontée la Whitehead Street, du Sud au Nord. Et si la Duval Street est la plus animée, on pourrait certainement dire que la Whitehead est la plus historique puisque c'est là, par exemple, que nous pourrons croiser la maison d'Ernest Hemingway, mais aussi là que vient se terminer la Route 1.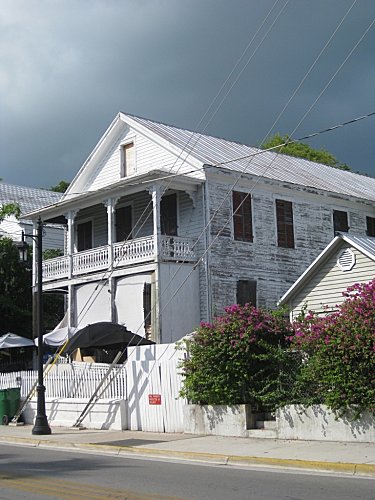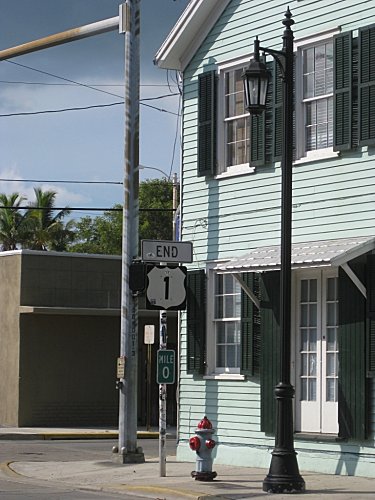 Une très longue rue, donc, remplie de vieilles maisons en bois, colorées, mais toutes passées par le temps.
Une rue dans laquelle il n'est pas rare de croiser des poules (tout comme nous croiserions un chien ou un chat en France) !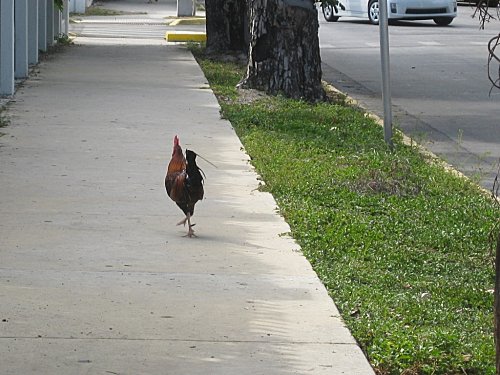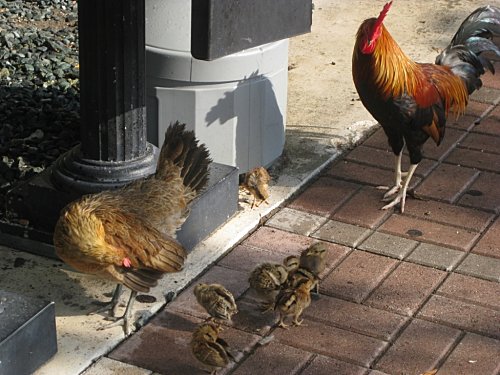 Un peu plus loin, en prenant sur la gauche, c'est sur le port de croisière que nous arrivons. Et je dois dire que lorsqu'un bateau y fait justement escale, c'est plutôt impressionnant ! Le port a alors l'air vraiment minuscule pour accueillir cet énorme bateau !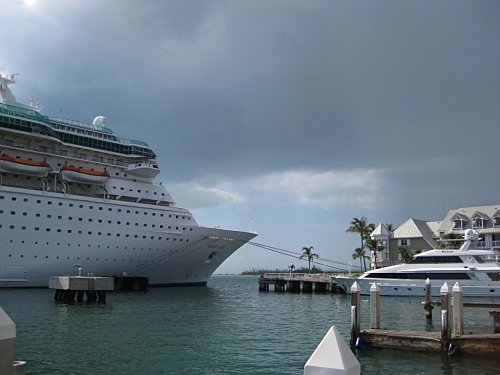 Nous arrivons ensuite sur Mallory Square. Et là, petite déception. J'avais lu que c'est un lieu de fête, alors, nous y étions probablement trop tôt puisque la fête accompagne le coucher du soleil. Mais le dit Square m'a juste paru totalement désert !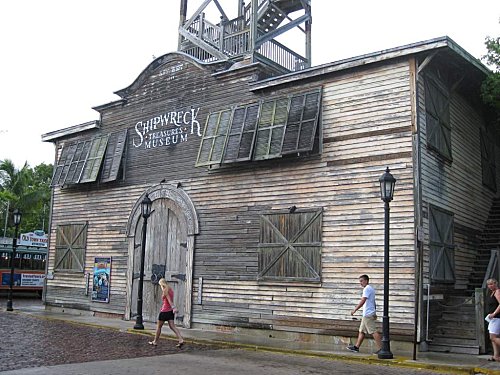 On a ensuite redescendu la Duval Street, quartier animé donc de Key West, d'autant plus que nous avons eu le hasard d'être là le jour anniversaire où est célébré Ernest Hemingway (21 juillet). Et attention, ici, cela ne rigole pas…
Concours de sosis et autres défilés dans les bars et les rues. Assez impressionnant !!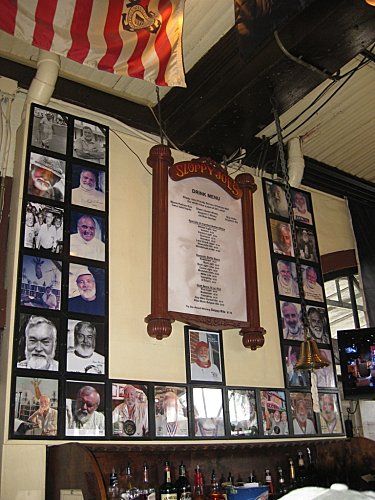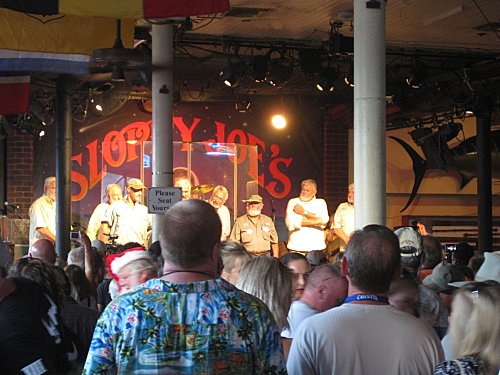 Le Sloppy Joe's étant donc l'un des bars les plus représentatifs de cette folie… Mais attention, si le passage y est obligé, ce n'est pas ici qu'il faudra s'arrêter si vous souhaitez boire un verre "tranquilles" ! D'autres bars quelques mètres plus loin seront très bien pour ça !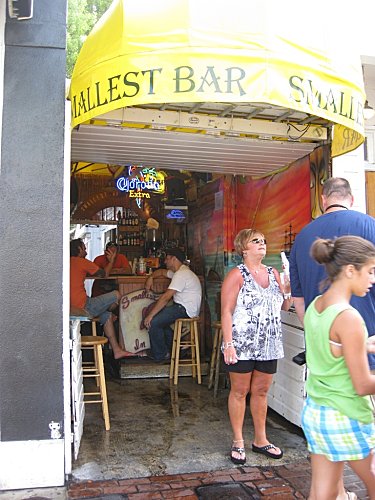 Enfin, avant de partir à la quête du bon restaurant pour la soirée, passage obligé pour tout touriste à Key West : the Southernmost Point of Continental USA (à l'extrêmité de la Whistehead Street). Mais là, il faudra bien choisir votre heure puisque c'est la pause photo pour laquelle il faut faire la queue !
Et côté gastronomie à Key West ?
C'est bien sûr de la Conch qu'il faudra déguster ! Alors là, j'avoue, nous avons failli à notre devoir de touristes et avons préféré un petit restaurant cubain, perdu au fond d'une petite rue déserte, mais lui, pourtant bien plein, avec même une file d'attente (de cubains ?) à l'extérieur ! De quoi nous rassurer sur notre choix.
Nous n'avons d'ailleurs pas été déçus, ni sur le goût, ni sur la quantité, puisque de mon côté, je me suis retrouvée avec un véritable coquelet dans mon assiette. Heureusement que là-bas, on peut rapporter nos restes !
Je vous conseille donc :
El Siboney, 900 Catherine Street, Key West, Florida
Et pour le petit déjeuner, c'est vers la Key Lime Pie que nous nous sommes tournés. Puisque là aussi, passage obligatoire pour tout touriste, culinairement parlant.
Et il y en a un qui semble avoir apprécié (vous noterez le soleil dans les yeux qui l'empêchait de
me regarder et le sourire crispé…) :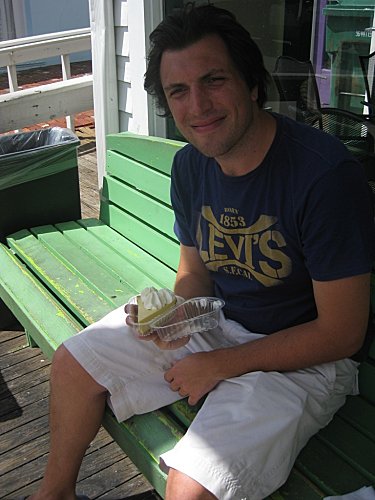 Il faut dire que cette Key Lime Pie est tout ce qu'il y a de meilleur ! Pas aussi lourde ni acide que nos tartes au citron française mais à l'inverse bien onctueuse et aérienne. Une pause à ne pas négliger avant de reprendre la (longue) route direction Miami !
MaRiNeTTe en Floride :